Marissa Ponich was an Olympic hopeful for Rio 2016 and used MAKEACHAMP to grow her community of followers and get funded. She ran 3 campaigns raising over 20,000$ and at the same time, collecting 235 incredible supporters. 
The road to Rio was an amazing journey for Marissa. Not only has she continued to improve her performance throughout but she was able to test out her skills against the best in the world. Luckily for us, she continuously shared her journey with her fans and supporters. She kept everyone up to date with her competitions and training. And, although she didn't qualify for the Olympic Games, she is grateful for the supporters that made her journey possible.
The importance of sharing your journey
The reason it is critical to share your journey is because the people that contribute to an athlete, they'd like to be part of the journey and the best way to do that is to keep them updated. The reward for contributing to an athlete is to be part of their journey and receive exclusive content out of that journey. Think about your favorite soccer/hockey/football team and how you are attached to their content.
MAKEACHAMP's FanPage makes it possible for you to keep in touch with your supporters throughout your athletic career and keep your fans engaged in your journey. 
Here is how Marissa used the most out of MAKEACHAMP to Create & Grow her fan base and monetize her Journey: 

MARISSA USING HER FanPage
You can check out Marissa's FanPage where she showcases her campaigns, story, social media and sponsors. The FanPage is free for all athletes to use and it is available as soon as you register. 
Her FanPage allowed her to be present on the internet and have her own unique personalized web site for her athletic career. It is a place for her sponsors, supporters and journalists to learn about her and her latest activities. If a journalist would search her name on Google, Marissa's FanPage would appear first. This is important because it allows Marissa to control her brand and control what the journalist or sponsor learn about her
Marissa's FanPage allowed her to generate more fans, keep them engaged and offer a variety of possibilities to support her journey. To help her and all other athletes, the FanPage has the following features:
- Crowdfunding campaigns 
- Blog posts & email updates (similar to a newsletter) 
- Auction feature 
- All her social media aggregated in one place
- Showcasing her achievements, story & sponsors 
- Contributions at all time & monthly contributions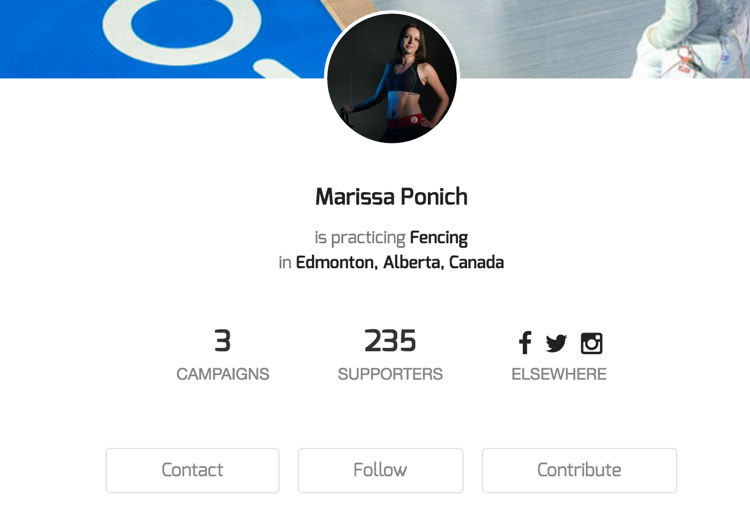 CROWDFUNDING CAMPAIGNS

Marissa ran 3 campaigns raising over 20,000$. Crowdfunding campaigns did not only help her with financing, but it also helped her increase her online exposure, increase followers and get new sponsors. 
Here are her campaigns. Starting in 2014 she ran a campaign approximately every 8 months to fund her Road to Rio. She kept her followers engaged with updates between the campaigns which allowed her to raise more funds each campaign.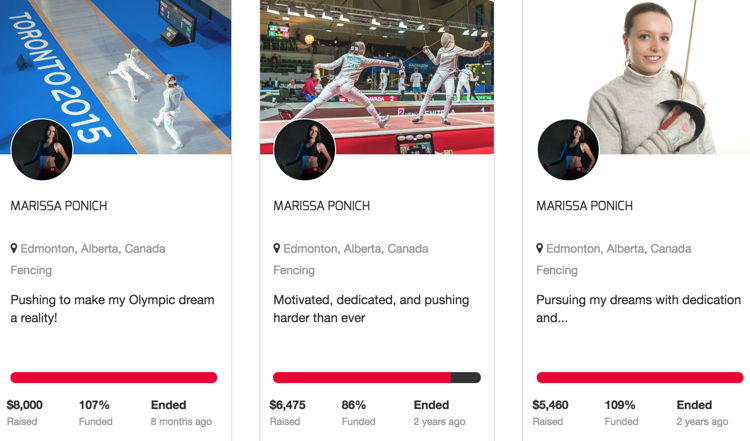 Marissa's FanPage helped her increase the amount of funds she raised every campaign by keeping all her supporters in an email marketing systems. In her first campaign she was able to get 72 contributors. Since their emails were stored in a database, she was able to leverage that community for her second campaign. Her supporters received an email with every update she made as well as an email update about the launch of her campaign. 
This means that as soon as someone contributes to a campaign, their email is being stored by your MAKEACHAMP FanPage. When you do an update or launch a campaign, our marketing system will send your fan an email with your update.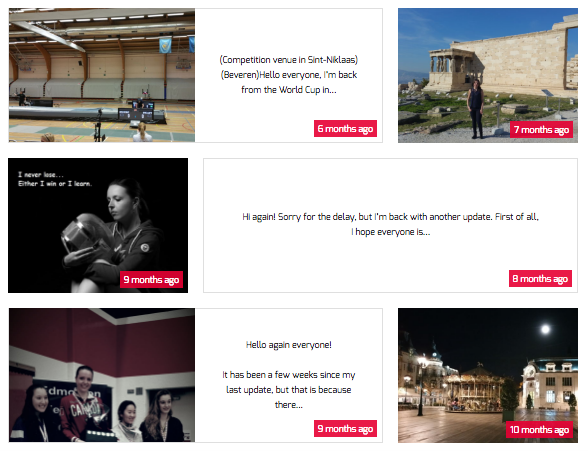 Every campaign went viral online for Marissa, it gathered exposure, increased her FanPage followers and potential supporters for subsequent supporters. People started following Marissa's activity. They started to engage with and cheer her on. The same way fans cheer on their favorite football team. 
Her first campaign was to raise funds for her 2014 season. She raised $5,460 with the help of 75 supporters.
Her second campaign was to raise funds for the end of 2014 season and beginning of 2015 season. She was able to raise $6,475 and generate 62 additional supporters.
82 supporters came together to support her last campaign for Rio for which she was able to raise $8,000. 

MARISSA'S BLOG AND EMAIL-UPDATES:

The reason Marissa was able to increase the amount that she raised every campaign was because she continuously updated and engaged her supporters her supporters between campaigns. This gave the supporters the reward that they wanted: to be part of her journey.
She was was using her built in blogging and updating system to share with her supporters every step of her journey, the good and the bad. That made her campaign exciting. It made the supporters feel like they were alongside her as she was training and competing around the world. The same way a hockey fan feels excited when his hockey team is winning.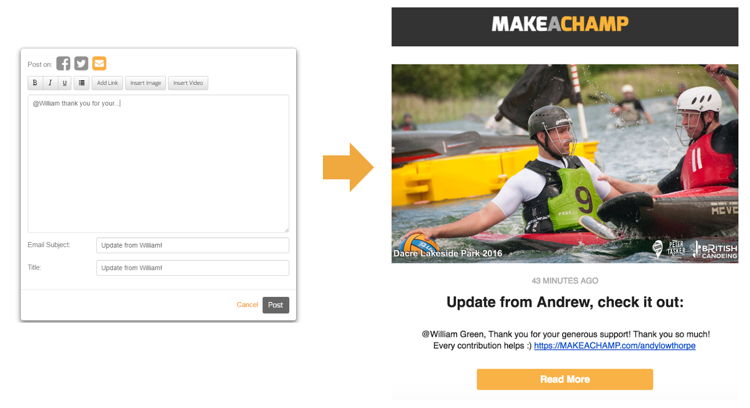 MARISSA SHOWCASING HER SPONSORS

As Marissa was sharing her fencing journey, she was gathering exposure. This exposure did not only help herself acquire new sponsors, it helped her give them the exposure the sports need and deserve.

The sponsors's logos are clickable and come with a description so the athlete can give their review on the product. Marissa showcased the sponsors on her campaigns as well as on her FanPage. When her campaign is going viral her sponsors are right there to gain exposure. When Marissa is using her updates and her supporters visit her FanPage, her sponsors are showcased there as well to benefit from additional exposure.
Read this blog to learn more about all the features of your FanPage that is available now for you for free. To get started with your FanPage, all you have to do is register on MAKEACHAMP.
If you have any questions regarding the FanPage or you need tips on sharing your journey, please don't hesitate to get in touch with us at .
Vous pourriez aussi aimer: