Let's face it, funding for athletes is scarce out there and you still need money for your travels and equipment. You've turned to crowdfunding but you don't know what to expect. Well, were glad you decided to check out this post because we'll guide you through what you can do to maximize the reach of your crowdfunding campaign.
Here is a step-by-step procedure on how you can maximize the reach of your campaign:
Phase 1: Creating a group of followers
After the billions of dollars that have been crowdfunded on all the various crowdfunding platforms, one success-tip remains valid. The campaigns that have a community of followers around them at the moment they are launched are the ones that are more likely to succeed. This has been shown to be true over and over again. The only exception is an emergency crowdfunding campaign.
As an athlete, if you are in a rush to raise funds for a competition then you don't have to build a community of followers - just launch your campaign as is and you'll still be able to raise a decent amount of funds. However, if you have time and you want to cover the expenses of the majority of your season, then we suggest that you start marketing yourself as an athlete and build a community of supporters who want to see you succeed.
1. Collecting Emails on your MAKECHAMP profile
When you're marketing yourself as an athlete, one of the best thing that you can do is collect emails. Emails are the number one source of contributions to campaigns. On MAKEACHAMP you can collect emails directly on your fan-page. Below you can see what happens when someone clicks follow on your athlete-fan page.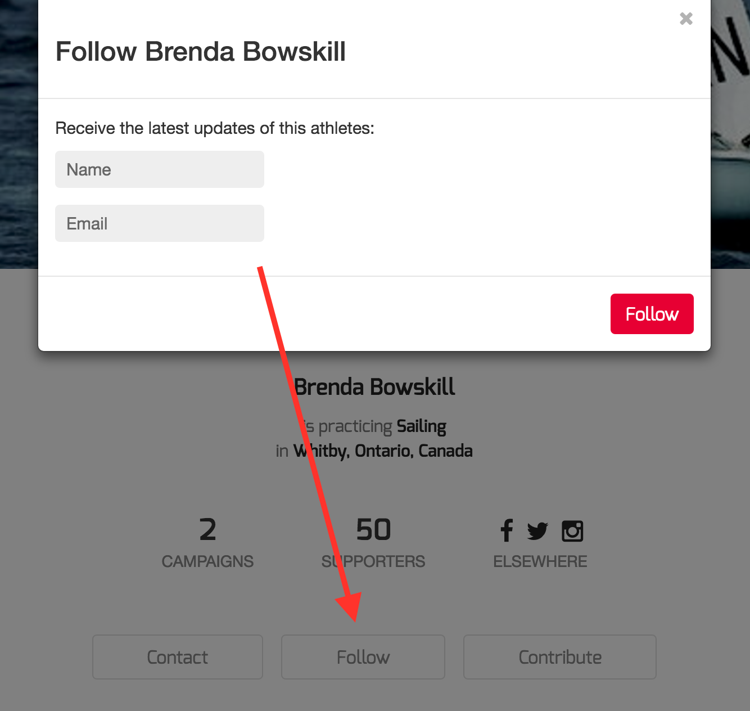 MAKEACHAMP stores the email address inside your profile so that every update can be emailed directly to them. The other reason this is great is because once you launch a campaign, your supporters will also get an email. Then, once you are running a campaign, all your contributors emails will be stored in this emailing system. You have full access to add or customize this e-mailing platform by adding, deleting and editing emails in bulk or individually.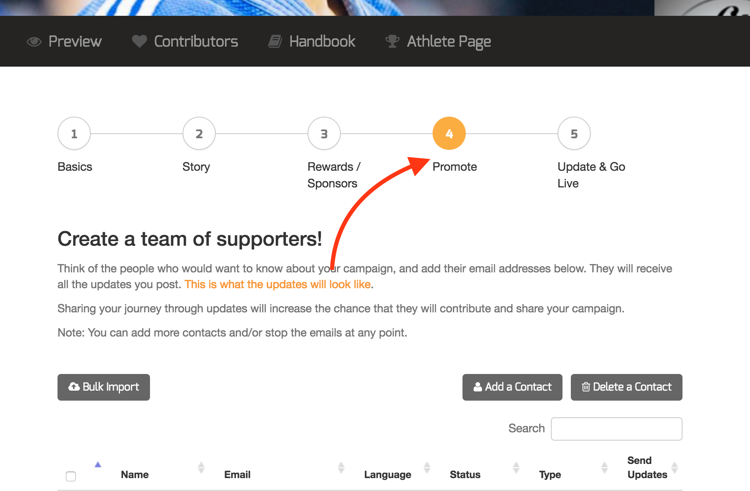 2. Create a social media following
Once your athlete fan-page is setup, you can head to social media to drive traffic to your fan-page. This means that you should have a Facebook page, Twitter and an Instagram profile setup. Next, you should start creating and sharing content on those social media accounts. We wrote a
guide for Instagram
,
Twitter
and Facebook that you can follow to learn more about social media marketing for athletes. Creating a social media following is not as hard as it seems. Sharing content can be fun, easy and it can go a long way in helping you create a community of fans.
3. Create blog posts
Directly on your MAKEACHAMP page you can create great looking update-blogs with images and videos. Then you can share these on your social media and draw some of the views to your athlete-fan page and collect more emails.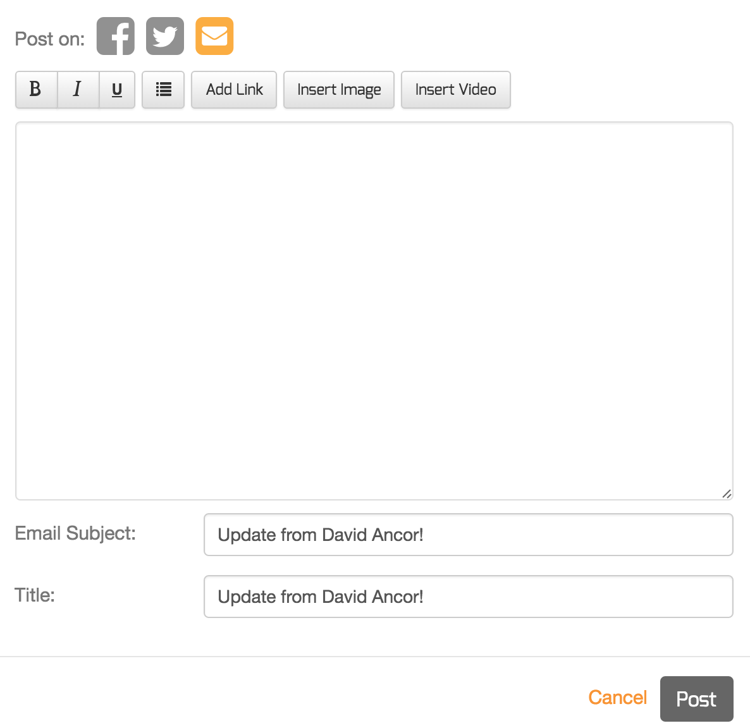 Once you have a good amount of emails collected, you can launch a campaign with nearly guaranteed success. The people that have been following you are the ones that are going to contribute to your campaign right from the start.
Phase 2: Creating the campaign
A campaign should be clear and impactful. All the various elements of the campaign should have the same theme - they should all support your main purpose. Your campaign title should introduce the reader to what they are going to be reading about, the video should expand on it and give a visual representation and lastly, the campaign description should give additional details.
Don't forget to highlight the key element that differentiates you from the rest of athletes - what makes you unique? Is it your sport? Your city? Or even your results or achievements.
Also it is important to choose a good funding goal for the campaign. A goal has to be realistic enough to motivate your followers to contribute. You can learn more about each aspect of the campaign description
here
.
Phase 3: Campaign-ing
1. Send the preview link to some key family members and ask for their feedback
Asking your family members to get involved in the campaign creation is a great way to increase your campaign reach. Doing so will prepare your closest circle of supporters for your campaign. Your closest supporters and family members have a big role to play in your campaign - not just in terms of contributing, but also in terms of promoting.
This is a nice way to give them a heads up about your campaign and get them involved in its creation. Once they feel involved they will be more active in promoting you. Remember your family members can send your campaign to all their colleagues without much hesitation. Also if you and any of your family members work in the media industry, you can definitely leverage that contact.
2. Organizations, Media & Journalists, Sponsors, etc
Although this is not necessary, reaching out to organizations, media and sponsors definitely helps athletes get the funding that they need. I would highly recommend to message organizations, media outlets, journalists and sponsors even before your campaign launches.
Then you should reach out again once your campaign is launched and it is gaining some momentum online. Also you can read about how to get your MAKEACHAMP campaign sponsored here (link).
3. Get your updates ready
Now launching your campaign on social media can be a bit tricky. So we simplified it for you. below is literally an action plan that you can follow to successfully market your campaign.
(Phase 1) Before you launch - create a list of emails and a base of followers on social media.
(Phase 2) Create your campaign and ask for feedback
(Phase 3) Launch your campaign on social media
Week 1 :
- The launch : Hi everyone, Im launching my campaign
- Social media Shout-outs- public thank you's are critical - 1 per day
Week 2 :
- Reach out to journalists
- Social media Shout-outs- public thank you's are critical - 1 per day
Week 3 :
- Reach out to journalists
- Showcase rewards - 1 per day
- Training/diet videos
- competition updates
Week 4 :
- Training/diet videos
- Competition updates
Week 5 :
- Training/diet videos
- competition updates
Week 6 :
- Final push
Phase 4: Post campaign
So your campaign is done, if you followed the advice above you were likely to be successful. You want to leverage the success of your campaign to grow your community of followers. People who have contributed to your campaign are now following your updates. They are getting email notifications every time you update your MAKEACHAMP fan-page. Its important to establish the connection with these supporters. Creating this community of followers is important for two things, giving exposure to sponsors and raising more funds the next time you crowd-fund. In order to do that, 2 things are important during the post campaign : fulfilling the rewards and updating your supporters.
Fulfilling the rewards is critical in order to establish a connection with your supporters. Even if its a postcard - its important to build the connections. I know it takes time for you to do but the benefit outweighs the effort.
Updating your supporters regarding your progress goes a long way and all it takes is a simple update on your makeachamp page and it will be emailed directly to them.
Conclusion
If you need funding for competitions and tournaments, crowdfunding is the best and fastest way. You can get started here. You can also have your fan-page up and running collecting emails of potential supporters and sponsors. To learn more about MAKEACHAMP's product click here. Also, if you have any questions, please don't hesitate to contact us at .